Hi everyone! It's time to replay part 2 of August's Big Bang tournament. If you missed part 1, you can find it HERE.
As we roll the tape for this part, seven players are still in the game, including three PSO members. The chipstacks are as follows: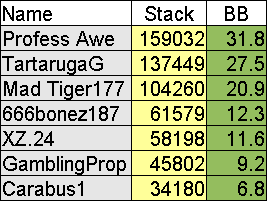 Commentary comes from me (ArtySmokesPS), and CannonLee, and the footage was recorded and edited by royalraise85. Pump up the volume and enjoy the video!
Look out for some big flips, some chatter about "the Coocoo", and a whole lot of stealing and restealing.
If you would like to participate in this exclusive tournament for PokerStars poker school members only, please visit The Big Bang page for more details!
You can also ask questions about the tournament in this thread on the PSO forum.
Till the next time, good luck on the tables!