Many critisize online poker, saying it's not really a sport and that poker players are lazy button clickers.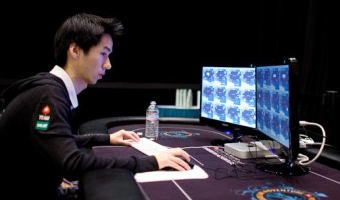 So the truth is you don't have any tough physical effort or an interaction with the other players, but online poker is more of a sport than some may think.
And I am here to prove how similar online poker is to "real" sports.
Soccer
Soccer is all about making the right decision in an insanely short period of time.
The same thing applies to multitabling in online poker, where you need to make the right decision before you get timed out.
In online poker though you rarely get your female members of your family mentioned by people on the rail.
While in soccer the love for those members is shown to poorly perfoming players every game.
Also Germans always win in both at the end.
Basketball
You know that game where your team plays great, the game is close and you lead by a few points.
The clock is slowly ticking and your team plays a great defense, leaving no room for the other team to make a good attack.
And then by a hollywood scripted scenario a 3-pointer comes out of nowhere from the middle of the field at the last second, your team loses and makes even Mother Teresa ready to curse.
The same thing applies to bad beats in online poker.
And by bad beats I am not referring to you losing from AKs with your pair of 10s on an all in preflop pot.
Tennis
In Tennis a lot of players have a tendency of misguiding their opponents into a different direction from where they will actually send the ball.
This is basically pure bluffing, although nobody bluffs in poker according to pros.
But next time you see Rafa on a table, call that guy more often than your needy mother on a mother's day.
All sports in general
Sport fans or sport players always blame the referees, even when the majority of the times they make the right decision.
The same thing applies to poker players which always blame the software, the dealer (yeah online poker players blame the dealer #truestory), and their luck because they are blacklisted from the poker gods.
GamblingProp