Too many times near qualifying for a satellite ticket I see players who are pretty much guarenteed to advance move allin with a premium hand only to have them get called by a bigger stack or someone who can damage their stack.
Lets look at this senario of a WCOOP satellite event which the top 10 players advance to the targeted event of a $1050 from playing a $4 rebuy satellite tournament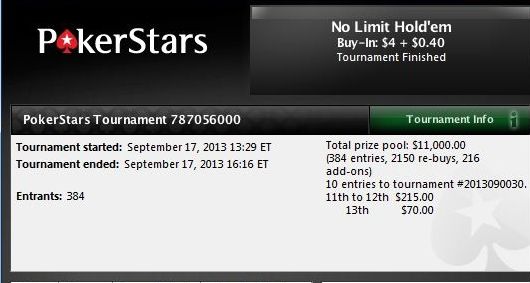 So here we go there are 11 players left the blinds are $75k - 150k. Four players are in danger of elimination with stacks of $351k, $287k, 191k and 126k. The blinds are coming around to the smaller stacks and you are player $351k watching on:
Note that you should be watching the lobby to see where you stand and having other tables open to see what's the best possible play to survive. On this table Villian_6 was shoving on every hand cause he had everyone covered 3 times over and more. Villian_2 was the shortest stack of the tournament, so shoving or calling with a good hand to survive the blinds would be understandable. If any of the other stacks got involed they would be playing the wrong way. Remember you are just trying to outlast the shorter stacks!
Now lets look at what the other table has. The 351k stack has already put in his big blind and is actually in a very good position to advance if he just folds, why? Because there are 3 other players that have shorter stacks that must play before or when the blind reaches to them. In addition there are 2 maniacs on each table with huge stacks that are shoving with any two cards putting pressure on them every hand. But....villian_5 on this table gets a monster and puts it in
And wow the maniac big stack picks off his AA with a rag hand. Even though this was AA, given the situation it would be best to fold no matter what hand villian_5 got. If it was a regular tournament its no question he should snap call cause you're looking to win it all not go for 10th or 9th ect. But since this is a satellite and chances are if you fold every hand until the blinds reaches and eliminates the shorter stacks it would be +EV to do so than to risk busting and losing like he did above. So do not risk your position to advance in a satellite if you don't have to, surviving is the nature of of satellite play.