Hi all, he's my slightly late July Time Vault review. At the moment I'm on holiday in the Scottish Highlands with very limited internet access. Me & my partner spent 3 nights in Scotland's capital, Edinburgh, before moving to Fort William where we climbed Ben Nevis, the highest mountain in Britain. Today we travelled to Skye, one of Scotland's many islands & luckily for me the hotel has decent internet access. I haven't played any poker in 4 days so it'll be nice to get back on the tables later tonight
In July my Time Vault challenge grinded to a halt during my worst month so far. I started mixing up 5NL & 10NL Zoom in the hope of making the move up the stakes a little smoother. After a decent start I hit a $65 downswing, losing money both at 5NL & 10NL. At that point, finding myself $42 down for the month, I turned my attentions to 2NL Omaha Zoom which I found to be great fun as well as profitable. That seemed to help freshen up my mind & for the last few days I played 5NL NLH Zoom exclusively & managed to rescue things as well as earn myself SilverStar status. He're's my graph: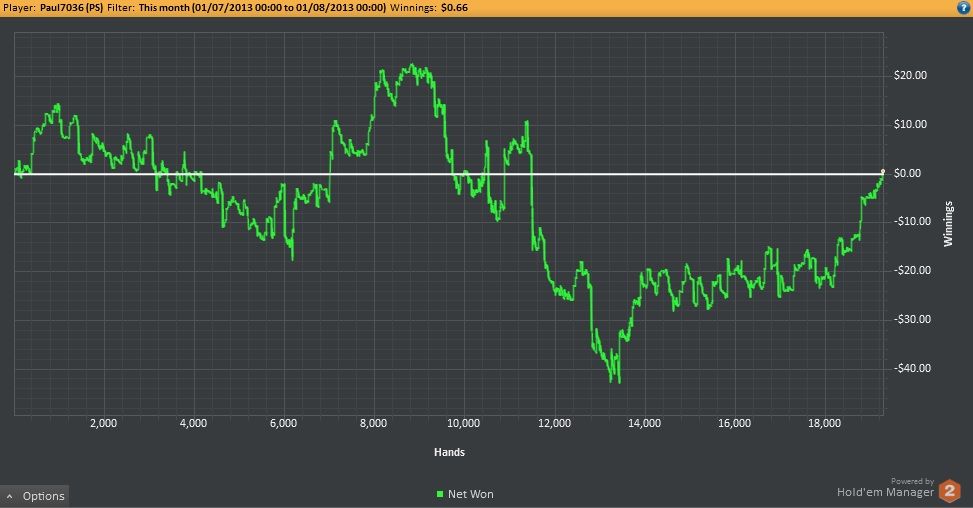 So, just 66c profit for NLH Zoom, although the $12.63 I made playing Omaha Zoom (not included on the graph) make things look a little better.
I also made a small profit in both MTTs & S&G's in July, maintaining my record of having made a profit in all formats of poker each month of the year so far. I have PokerSchoolOnline to thank for the MTT profit as I won 3x $3.30 Micro Millions tickets in their special added ticket satellites, spending a total of $1.29 to win them. I cashed in two $3.30 events & still have my third ticket which hopefully can be used in the next Micro Millions.
Bankroll update for July:
START BANKROLL: $1081.29
Cash: $13.29 profit
S&G: $24.29 profit
MTT: $11.74 profit
Bonus: None
END BANKROLL: $1130.61
JAN: +$106.53
FEB: +$193.12
MAR: +$92.90
APR: +$127.03
MAY: +$129.43
JUN: +$182.28
JUL: +$49.32
I think I need a lot more training before I can make the move up to 10NL Zoom & at the moment I never seem to have the time for it. Without moving up the stakes I'll not be able to make my targets for the year so I've decided to turn to S&G's, stating up the 18man Turbo Mini-challenge which you can read about in my LAST BLOG ENTRY. That's got off to a slow start due to being on holiday but I'll make up for the lost time when I get back.
However, a big MTT win looks like my only chance of building my bankroll to $2500 before the end of the year. I busted out of the PSO Premier League in July but that may not be such a bad thing as I'll now have more time to play normal MTT's alongside concentrating on my S&G challenge.
That's all for now, I'm going to get back to enjoying my holiday. I hope things are going well for the rest of you! Good luck