Hi everyone, I'm happy to report that my bankroll building challenge is still moving along nicely & I've reached my 3rd target of $1000 thanks mainly to the improvement in my results in 5NL Zoom. This month I've Zoomed my way to $107.77 at a rate of 23.5bb/100hands which is loads better than previous months.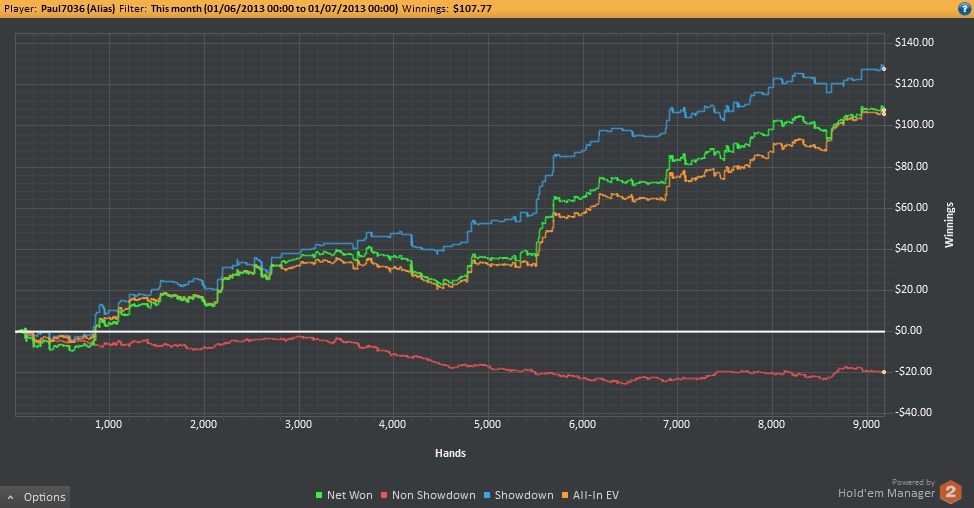 That sort of rate is going to be tough to keep up but with the Zoom & Boom promo just around the corner I can hopefully win a few bonus $ next week too
Away from Zoom things aren't going quite so well. I've played around 50 18man Turbo S&Gs during the Golden S&G promo but haven't had a sniff of a golden S&G so far & I'm showing a loss of $1.15. Looking back to my previous blog entry about wanting to find my regular game & not be a Jack of all Trades it certainly seems like Zoom should be my game. I understand that 50 S&Gs is a tiny sample size (and for that reason I'm still considering starting up a S&G mini-challenge in July) but comparing time invested vs. profit made across the whole of this year then Zoom comes out way on top & I feel like it'll continue to do so.
I really need to make some changes to the plans I set out at the start of the year but as the half-way point of the whole challenge is just 8 days away, that seems like the best time to do that so I'll include it with my June review.
Thanks again for reading! For now I'm eager to get back on the tables & continue with Golden S&G week so I'll wish you all good luck & see you soon