It has been a while (again). But I just wanted to give you all an update of my progress. So in februari I played 2NL almost exclusively. So here the stats for 2NL:
Nr of hands: 19,660
Profit: $37.92
BB/100: 8.14
BB/100: 9.71 (EV adjusted)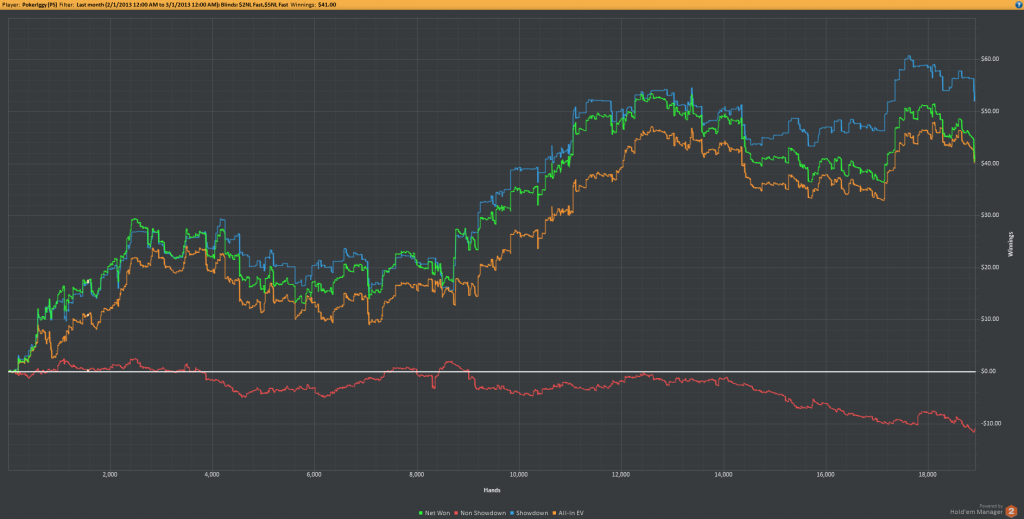 Although I managed to make a profit in my main game. I experimented with some 180s SNGs and MTTs. This actually hasn't done any good to my BR. So at the end of the month I ended up with just a BR of $19.19. Ouch! Well actually I don't really mind as it's all about my main game ZOOOOOM and that was (altough it was just 2NL) profitable. And about 9 bb/100 in 20k hands is good enough for me.
However as I really think my play has evolved to a next level the past 2 months and I really think moving up asap (away from 2NL) is a good thing, I decided to give 5NL Zoom another try and I think I can say it wasn't without success. So here the stats for march where I played 5NL almost exclusively:
Nr of hands: 30,468
Profit: $70.85
BB/100: 5.14
BB/100: 4.08 (EV adjusted)
So this brings my BR back up to $91.04. Ok, I don't think I really beat 5NL. There is still a lot of work to do. However I think I play very comfortable at 5NL and have a solid base while playing it. Now I just need to figure out how to adjust my play in order to crush it
So what are the plans for now? I'll definitely try to end this month positive. I've still 9 days left so I've set my goal to finish this month with a BR of $100. I also decided that I won't play any other games to prevent me from spewing my BR away again.
My end goal for the year was to reach 10NL and build my BR to $1000. It's still far away, but seeing how I managed to build my BR back up to almost $100 and feeling comfortable at 5NL it's even less unrealistic than I thought in the beginning. Well like I said. It's still far away, but who knows.
Lets just keep grinding and keep having fun at the tables! Gl to you all!