In my recent live training class called "Following Through", we discussed 3-betting in a certain situation vs. a very unbalanced villain where calling was also a valid option. The theme of the class was when to follow through with a flop continuation bet after having 3-bet from the blinds vs. a steal position open, and having the opener call your 3b. Yet this particular hand was worthy of some discussion on the preflop decision to 3-bet at all as opposed to flat call the open, and I thought it would be useful to dig into it here in my blog for you.
First let's set the stage. We are in the big blind in a 25NL 6-max game playing a 100bb stack and holding ATo. Action folds to the small blind, who begins the hand with 94bb's ($23.49 to be exact), and they open to .60c.
We have 817 hands played with the villain, over which their SB Steal % is 52 and their Fold to 3B % is 88.
So as I stated in the opening, we have a very unbalanced villain here… they are opening with just over half their hands, and folding to a 3-bet almost 9 times out of 10. In other words, this opponent is simply begging to be restolen from in spots like this. But what about a hand like our actual holding, ATo? Should we 3-bet it?
Some would argue no, the hand plays better for a call in position vs. their wide opening range, and if we 3-bet we will end up isolating the strongest portions of his range when he continues, against which ATo is an underdog.
These are valid points. If you plug ATo into an equity calculator like the PSO Calc vs. a 52% opening range, you'll find we have about 59% equity. And we have the positional advantage to boot. Strong arguments for calling indeed. It is very clear that flat calling preflop is profitable.
That being said, because the villain is so egregiously unbalanced preflop, 3-betting is profitable as well. How profitable, we can actually put some math to and begin to quantify:
Steal SB 52%
Fold to 3B 88%/Continuing 12%
The pot contains .85c after his raise --- I 3b for an additional $1.50
88% of the time I take down .85c, let's assume I always lose when he doesn't fold (not true, but for the sake of doing the math):
EV = (.88*.85c) – (.12*$1.50)
EV = .75 - .18
EV = +.57c or +2.28 big blinds
So the expected value of my 3-bet is 2.28 big blinds, if I never win the hand when called. The real value, assuming I play well post flop, is something bigger because I don't lose the hand every single time I get called.
"Okay, but when we get called, it's mostly by better hands Dave, so then what?"
True… AT plays poorly vs. his raise/calling range. If we start with 52% of hands, multiply that by 12% (the times he doesn't fold to our 3b), we get 6.24%. If we further remove QQ+/AK under the assumption that he would 4-bet those hands instead of call us, we get a range distribution that looks something like this: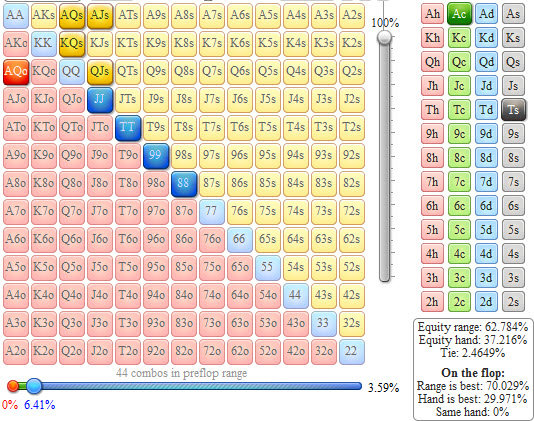 As you can see we are well behind this range! The result of this means when we get called, we should generally be c-betting less frequently than we might normally as the preflop 3-bettor (which came directly to the topic of that live training class, because we did get called and the flop came KJT rainbow, a board we should not c-bet when checked to on the flop).
So while we might normally flat a hand like AT vs a reasonable villain in this spot, our villain is drastically unreasonable with a very aggressive steal range that he doesn't defend well when re-raised. Which action is better then, flatting or 3-betting? Both are certainly profitable. In game I went with the 3-bet because this particular villain c-bets aggressively as well (flop 90%, turn 70%, river 60%), so leaving him with the lead in the hand is going to lead to a number of tricky post flop spots when he barrels off and I sit with ace high, sometimes calling him with the worst hand and sometimes folding the best hand. I feel confident I can navigate these spots profitably as a whole, but can I do so to the tune of better than +2.28bb on average? That's a decent benchmark to overcome, so I took the route that I felt was easier to play because it came with a guaranteed solid profit.
Side note #1: The reason we should not c-bet the flop as played is because the only hands he'll fold to our c-bet, if you look again at the range distribution screen shot, is 88/99. Those hands we don't need to fold out because they are way behind us and will probably either fold later or check down and lose. The rest of that range will all continue (except for maybe AJs) and we have only 12% equity against it… so a c-bet here literally folds out the only 2 hands we are crushing, and gets continued action vs. a remaining range that is crushing us.
Side note #2: Someone asked a great question in class, does this math above mean it would be profitable to 3-bet any 2 cards in this spot? The answer is yes, that's exactly what it means, thanks to the villain being so wildly unbalanced with his preflop strategy. In practice I do not 3-bet any 2 cards however, because I don't want to alert this guy to what's going on or force him to adjust out of sheer frustration. But we should certainly ramp it up against villains like this. My normal 3-bet% out of the blinds vs. steal position opens is about 13%... against this villain I want to be re-hitting it at least 20% of the time, something in the 20-25% range feels about right.