In this post I will continue with my line of using graphs and HHs to pursue a line of thought and work through a psychological barrier we all face, dealing with variance.

Often we feel as though we are being cheated by the unruly deck. There is a reason why poker is so popular and there are more people willing to place money on the table to play poker, than there are willing to play chess.

It is due to variance, and and knowledge that even your opponent does not know what card will be next.

This is enticing to people, it feels like it levels the playing field. Unless you play only a few hands of poker in your life, you will inevitably feel the drain of variance on your soul.

Below is an example of the last 5k hands of 5nl where I held a set or better and saw the river. So this removes all of the losses I have had by folding a hand I would have made but didn't have the odds to call and see the cards.

What you will see is a graphical representation of my frustration. This graph will show that over the first 3k or so of the 5k hands this sample was pulled it felt like I just could not win. That my back was against the wall, and it didn't matter what I showed up with.

The Graph: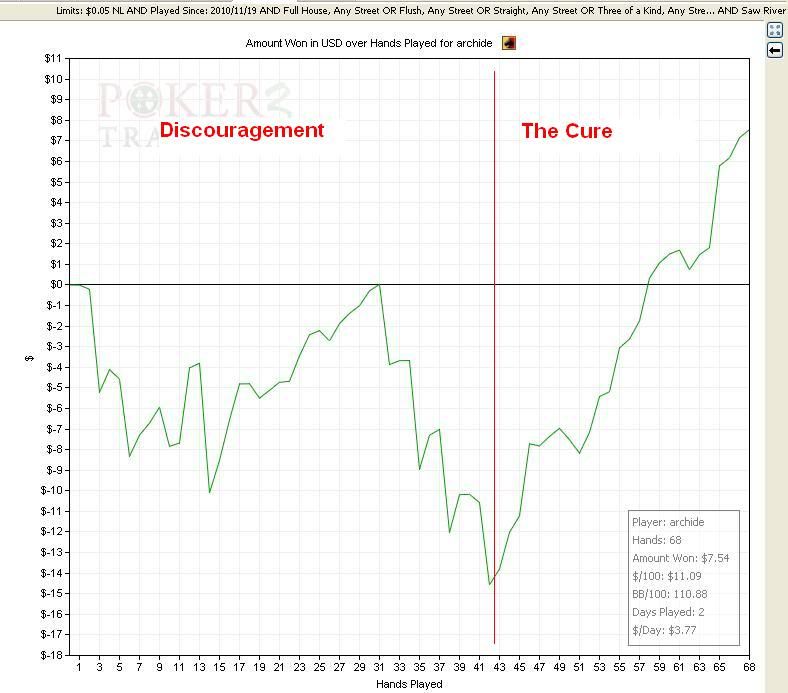 So what can we really see from the above picture?

How about the following (true or not in no specific order):
I took a hit on made hands
Eventually made hands made me money
Variance was a factor in my overall winrate
I got it in with the worse hands
I failed to recognize the board
Time will cure anomalies
I can rattle off quite a few thoughts by looking at this, but I want to focus on this last point. If these are anomalies, then time will correct the misgivings.
There is a discipline and a mindset which is tough for me to shake at times. Being beaten in a hand is not a good feeling, fighting all day never making ground and then climax with:
PokerStars - $0.05 NL (9 max) - Holdem - 9 players
Hand converted by PokerTracker 3
BB: $5.22
UTG: $10.00
UTG+1: $1.71
MP: $9.55
Hero (MP+1): $5.14
LP: $4.00
CO: $2.20
BTN: $3.56
SB: $4.95
SB posts SB $0.02, BB posts BB $0.05
Pre Flop: ($0.07) Hero has
Kc Kd
fold, fold,
MP
calls $0.05,
Hero
raises to $0.35, fold, fold, fold, fold, fold,
MP
calls $0.30
Flop: ($0.77, 2 players):
Js 4c Ts
MP checks, Hero bets $0.50, MP calls $0.50
Turn: ($1.77, 2 players)
Ks
MP checks, Hero checks
River: ($1.77, 2 players)
4h
MP bets $0.75, Hero raises to $4.29 and is all-in, MP calls $3.54
Hero shows
(Full House, Kings full of Fours) (PreFlop 68%, Flop 51%, Turn 0%)
MP shows
(Royal Flush) (PreFlop 32%, Flop 49%, Turn 100%)
MP wins $9.84



Frustration is born when reality does not match expectations. Despite the fact that a favorite is a favorite, when we come to realize more and more that 5% means that something is going to happen 5% of the time, then we will be more comfortable in our skin when it appears.

When a bad run of the deck repeats over several hours it can be discouraging, but time is going to always lessen the impact of anomalies. It will not remove them, and it will not erase them, but it will LESSEN the impact of them over time.

Please consider some light reading on your path to understanding how to cope with variance:

http://en.wikipedia.org/wiki/Law_of_large_numbers

p.s. Please feel free to drop me a comment or private message on if these series have been helpful so far and if there are any requests.

James