Hello bonjour Namaste sasriyakal salaamwalekum…
Hey guys at last have decided to write a blog… I think most of you r running good here. Have started playing poker in my school days, bunking classes playing poker with ma friends those where the 'days', 'days' to remember. Anyways moving forward i was first introduced to online poker in 2013, just to play IPC ( India Poker Championship) on pokerstars mainly on Tuesday nd Thursday . I remember before this I played on zynga but I find it worthless until unless I earned something with it, so was not engaged towards it.
2013 was busy year as my sis got married but I was in touch with poker. Playing freeroll regularly and Soon I got my first 10$ from IPC. I guess I build my bankroll to 700$ playing cash games mainly 6max zoom 25NL. Switching the game to 100NL was bad idea, had lost most of my money….After losing all my money have decided to deposited but didn't work out as I was too aggressive on tables I think I was not able to recover from shock of losing 700$ in a day
.
2014 was like 2013 in terms of 'personal' as I was travelling continuously with ma friends for almost 3 months and even traveling after that too. First planning then enjoying it, that's life. But whenever got time I used to play poker, deposit then lose it all and was even frustrated at once. Watching video and attending live training help my game a lot. Coming to December making money through freeroll and then losing it all on cash games, its repeating all the time. I knw its ma mistake whatever I got I sit on highest of high level on cash game to maximize the profit.
Here we are 2015 and i have decided to build my bankroll " 0 To Poker To Infinitely " .Got a plan!, just need to work on it. No honki ponki!!
So here we go, will built ma stack playing 6max zoom 2NL until 200$ then will make a switch to 5NL till 500$ and so on…..side by side will going to play SNG mainly 90max with buying less than 1$. Each day will try to play 3000 hands playing zoom. Will compete for 'PokerSchool Premier Skill League' every month.
Have already started my bankroll, got 2nd 90max 50 cent on newyear and yesterday too wich was 7$. Have played around 8000 hands in 3 days playing 2NL. Running good as made a good profit. Here are some hands to watch...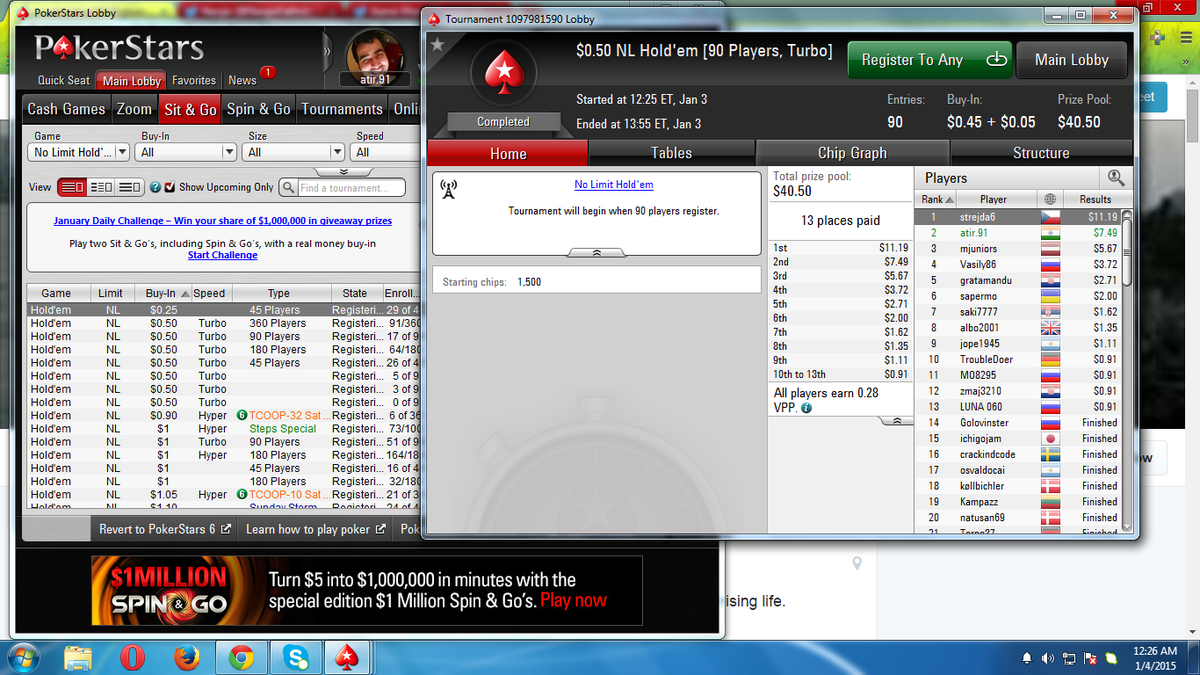 http://www.boomplayer.com/en/poker-hands/Boom/12372652_A8F0E9A1DC
http://www.boomplayer.com/en/poker-hands/Boom/12372593_D8095A5970
Bankroll – 41$
Fpps - 107