Not exactly a huge fan of militaristic Britons but it still seems like an apt quote for this blog, so I will borrow it, unashamedly.
My March review was posted last night and it contained some whining about my game and results, it was also written before I had got the final hands imported into my database from my request to Pokerstars for every hand I have ever played on the site.
Truth be told, I made the request looking for a reason to quit, I knew I needed some inspiration to take that action because although it is infuriating on one hand it is also extremely challenging and rewarding on the other when you make a great call or an epic fold.
When I made the request I honestly didnt have a clue what the end results would be, I have been lax in keeping my records together, and quite honestly there were times I played on Ipad or mobile and I had no interest in having those results added to my database because I knew they were bad.
In the end, I was pleasantly surprised when the final hands imported, and the graph showed the result: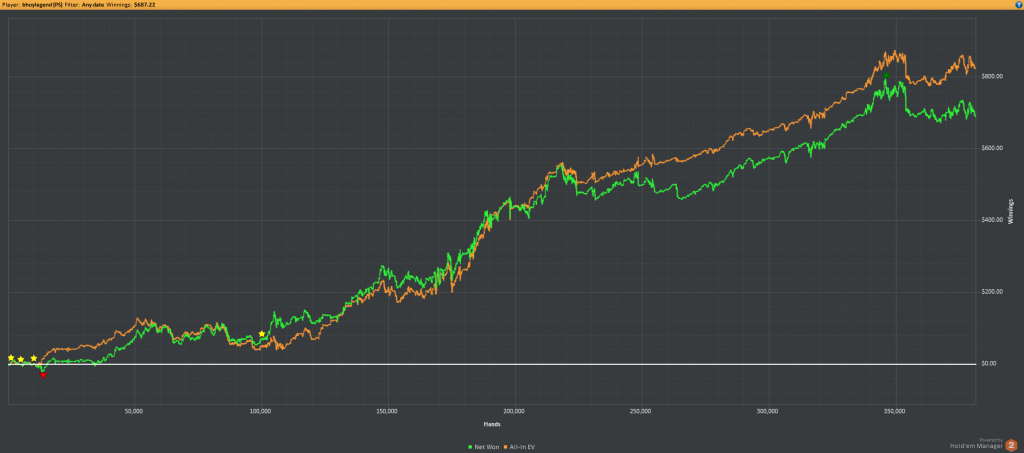 Hands played: 381,450 (Yikes, almost half a million hands, mind boggling)
Profit: $687.22
EV Adj. Profit: $824.46
I was prepared to see a negative figure, a small winning figure, but that amount, piffling as it is in comparison to some, was a great feeling. Most poker players lose, in my own currency I am more than £400 to the good, I felt good after seeing that, really good, like I hadn't been wasting my time. I feel the need to point out that the bulk of my play has been at the absolute micros so to me it really is an achievement.
This was my first ever all-in pot, and my 5th cash hand ever, its funny to look back on now:
I didn't top-up and I called off with off-suited broadways, at least some parts of my game have improved in the meantime, and that is largely thanks to the trainers at PSO, though not just them either.
My biggest ever winning pot, taken while under the weather, and still playing at full-ring:
I've broken even at tournaments over my playing time, but I never really gave them much of a chance to be honest, so I can also be content with that record.
If you have read my blogs, left a comment, read any of my threads and left a comment. Thank you. It's always nice to know that someone is taking an interest. I havent left nearly enough comments on others threads but I do read the majority of them.
Good luck everyone!