Back on the grind...
This week I have some amount of success to report but also some amount of failure...Il explain:
Shortly after my last post I downloaded a free trial of Holdem Manager thinking it will help with my game, Iv found that not only has it helped me in certain tough spots to make a decision but its help me realise where I lose and make money. I did watch some bigdogpckt5s live sweat videos where he plays 180man mtts and has some success so thought i would try the same at $1.50 buyins...I had no success...I tried to make all the right moves and pick my spots but always seemed to run into monsters... frustrating and like all MTT variance it is disappointing to see the bankroll drop...until...My mate Ty who iv talked about in previous posts convinced me to play in a zoom tournament.
With a little over 500 entrants I started out good doubling with pockets AA and sat just over average stack until the bubble which burst at about 72 people from then I stayed about average until the final 27 and then made a run for it and stayed around the top 3 until the final table. At the final table i dropped a few hands and went pretty short and ended up busting in 5th place for $107, pushing from the button with KQ but unfortunately the BB woke up with AK. That definitely boosted the bankroll and below is a screenshot of my tourney results since installing Holdem manager: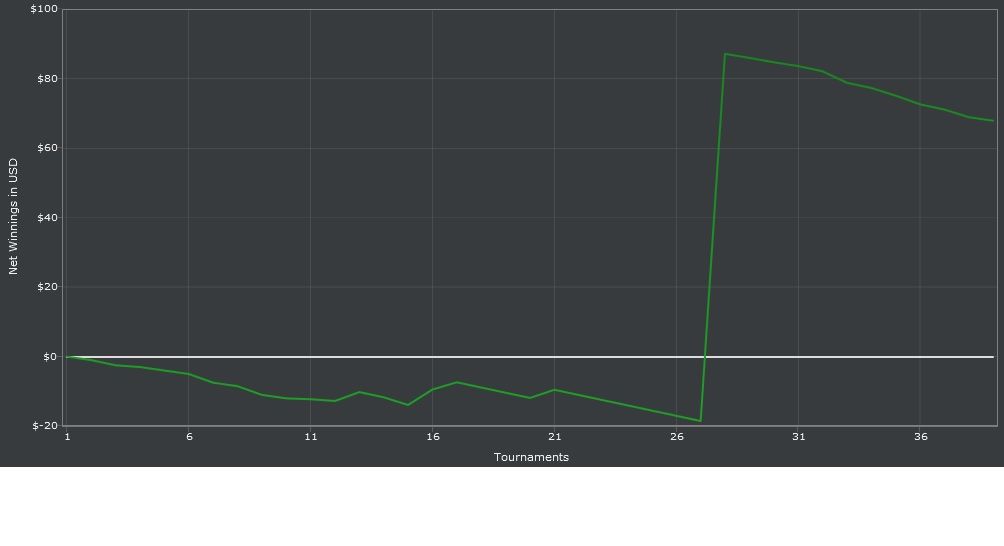 Now seeing that spike upwards is great but it was the downward trend prior to the big win (and after) that concerns me, Not that I have ever done much hand review in the past (due to lack of time) but I will make an effort as this may help me identify where I am going wrong as I am not happy with these results. I will continue to play a few MTTs as I know this is only a small sample size but Holdem manager also shows I seem to be more solid grinding cash games: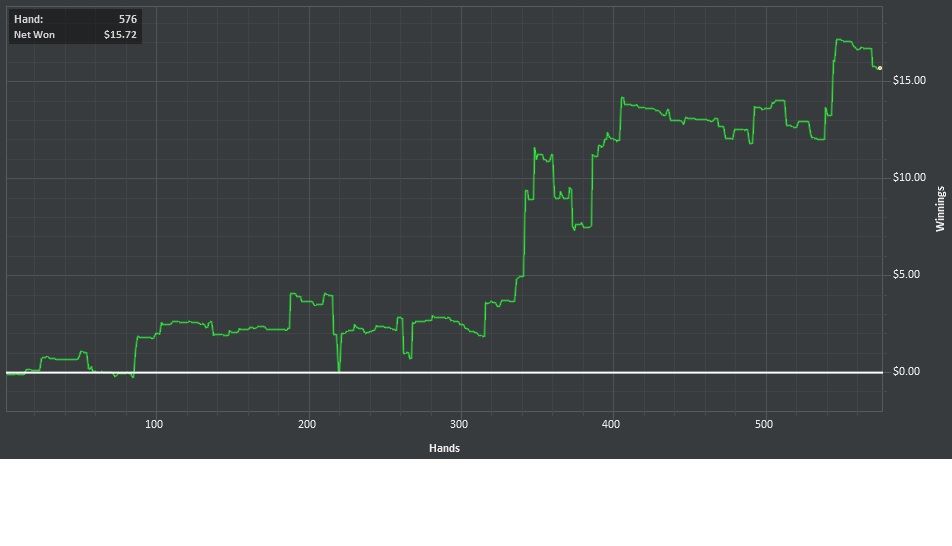 Again this is only a small sample size with just under 500 hands (keep in mind these are results from when I installed Holdem Manager and not from the start of my bankroll building). I think I will try to grind out cash some more and only play a couple of MTTs a week that I think have good value. Hopefully the cash results will continue in the same direction, From the above graph i have identified some very big leaks in my game; when I chase without the correct odds or bluff when, at these small stakes, there are a lot of calls. So I will continue to work at that and find any educational videos and reading that will help iron out my game.
so currently after almost $16 on cash and roughly $67 on tourneys in the last week:
Bankroll: $212 +$16 +$67 = $295 ( + $95 )
Thanks for reading, I will post again in a week or two, hopefully breaking the $300 mark!