We all have had incidences when we came across a TROLL on the internet guess this week was my chance to face one ....i never name people but i will relate the whole incident
This is what I had always though a troller was like..Guess its all true
So here's how it all started...I received a mail in my inbox telling me i had a PM..i opened it and a self proclaimed troll Administrator asks me for document proff that i was STAKED....
I was like who the hell are u to ask..his reply being he "WANTS" to know if i was staked or not..
i was laughing myself off for this person but i thought of indulging him
He send me more than so many emails about verification and he was so interested in my online poker activities i almost thought i had a STARS deal on the line.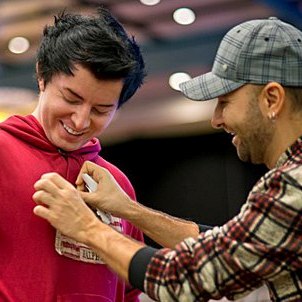 The only thing that would have stopped him i guess was if i showed him my CONTRACT Agreement...but seems the worldly powers did not want this fun to end so soon..he is added to my Skype account so i tried to send him the contract..wow..skype somehow was not able to send it even after various attemps...now this guy was all over the place how i didn't have it only
Another moment for me
I tried so hard although i could not upload so i asked this so self PROCLAINED LORD if he could teach me how to upload a picture in a PM...he didn't help but this lead me to research it myself and volla i found the instructual video and i was able to learn it..(Also a nice guy mailed me how to when i mailed him on his blgg how it can be done cause he had pictures in his blog)
I finally was able to send him a copy so that finally calmed the guy..i can only wonder of how his face might have looked at that moment cause he was so sure he was right
So to all u guys reading this see there are always opportunities to learn even from the dumbest of people
And to u SIR(read SELF PROCLAIMED LORD )
HAVE A GOOD ONE EVERONE AND FROM NOW ON U WILL FIND MY BLOGS MUCH COLOURFUL AFTER ALL THE KNOWLEDGE I HAVE GAINED INDIRECTLY CAUSE OF "THE LORD"