I presume you've found Reports>Showdown>Hand at showdown (detailed)?
You can add the "Won hand %" stat to that report.
It will look a bit like this: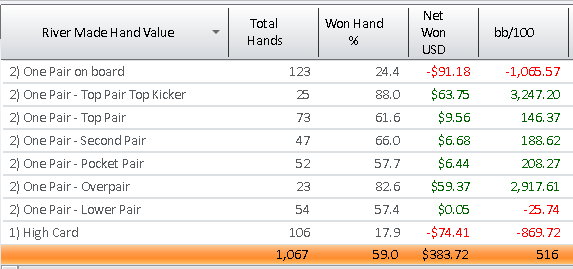 Note that the actual figures will depend greatly on whether you play 6-max, HU or FR, regular tables or zoom, and also vary a lot depending on your playing style.
I recall that when I was a FR beginner, everything worse than TPTK was a big loser for me at showdown. The screengrab above is from my latest 6-max database, and even with my newly-developed passive "bluff-inducing" style, I'm surprised to see I've made money with stuff like middle pair.
To calculate the frequencies of making specific hand strengths and getting to showdown, you can probably write custom database queries or just set up some filters and manually count the hands, which would be overly laborious even for a geek like me.
FWIW, the most common hand strength on the river if there is no betting is one pair, just based on frequencies. (If you deal out 7 random cards from a deck, it's kind of hard to
not
make a pair
)
In my database, a more common holding for me at showdown is "two pairs on a paired board".